How to choose heating radiators: basic recommendations and a
17-01-2018
Heating
Sooner or later, but the old batteries of the heating system must be replaced. The reasons may be formed blockages inside the pipeline, poor performance, wear of the material itself, an emergency or even just a desire to update the interior of the room.
In this article we will analyze how to choose the right radiators for your home or apartment.
General provisions
According to the existing statistics, about 1 out of 800 installed new radiators fail during the first three months due to non-compliance of its technical indicators with operating conditions.
If we also take into account that, on average, in a residential area costs about five such structures, it turns out that every 160th apartment will be flooded with hot water as a result of the wrong choice of heating equipment. And this is a significant blow to the family budget.
The reasons for the emergence of such disappointing statistics lie in the diversity of the proposed range of radiators in the current market, among which there are large numbers of models from Europe, Asia and America, and in the features of our urban heating systems, which are often simply incompatible with foreign models. These are the following points:
| | |
| --- | --- |
| Feature | Comments |
| Single pipe coolant supply system | A two-pipe system is being implemented throughout the world, in which coolant is fed through one pipe and removed through another. In our apartments, this is done by a single pipeline, which requires a higher speed of the fluid. The result is an increase in pressure and temperature inside the structure, which significantly increases its wear. |
| Implementation of water drains | In a space filled with air, corrosive processes occur much more intensively. |
| Water hammer | For example, Europeans use special equipment to make the flow of fluid into the system smooth. In our country, everything is limited to pressing the switch, as a result of which a strong pressure of water rushes through the pipes, threatening to destroy them. |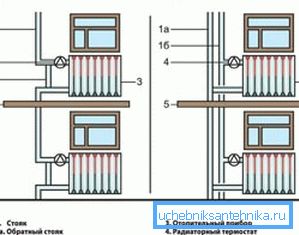 If you are the owner of a private house, then you can avoid the problems described above by choosing a sparing circuit for connecting batteries, installing converters that soften the flow of coolant, and not giving up on draining the liquid for the summer period.
But even here one should be guided in the models offered by specialized stores and make the choice of a heating radiator consciously, having the opportunity to achieve maximum performance and reliability with your financial capabilities.
Manufacturing material
How to choose the right radiator in accordance with the material of manufacture? Let's consider the main offers of manufacturers:
Aluminum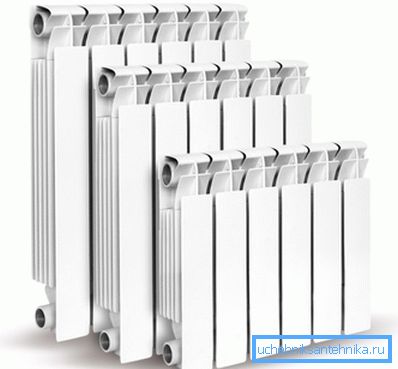 Elegant sectional aluminum structures have many positive aspects:
High heat dissipation. Half of the heat energy is transmitted by radiation, and the rest by convection.
Attractive appearance.
Relatively light weight, which greatly facilitates the installation of their own hands and transportation.
Availability of separate models for installation in private homes with a pressure of up to 6 atm. And for installation in apartments with withstand pressure from 10 to 20 atm.
Sectional. Also simplifies installation and allows you to optimize heat distribution.
Tip: before you choose the number of sections, it is advisable to consult with a specialist. So you can achieve the best ratio of cost and performance.
But it is necessary to take into account the presence of negative sides:
Sensitivity to the chemical composition of the coolant.
The need to install automatic valves for the descent of hydrogen produced inside the system. Such forced devices by their appearance slightly spoil the aesthetics of the design.
Tip: before installing aluminum radiators, make sure that antagonist metals do not come into contact with them, as this will provoke and accelerate corrosive processes.
Among the batteries described there is a special group of extrusion models, they are distinguished:
lower price;
less weight;
vulnerability to adverse conditions.
In this case, the choice of heating radiators depends on the extremes of your system and your desire to save.
Cast iron
How to choose a heating radiator that will last you for a long time with a coolant of even the lowest quality? The answer is simple: cast iron. You have probably already seen such constructions in old apartments of high-rise buildings.
Their advantages:
The long operational term reaching fifty years.
Lack of corrosion processes.
Immunity to the chemical composition of the transported fluid.
Low price.
But, unfortunately, they also have serious shortcomings:
Heavy weight, requiring reinforced fastening elements and delivering tangible difficulties during installation and transportation.
The need for frequent painting.
Relatively weak heat dissipation. Given that the material itself has a good heat capacity, large radiators will be required for high performance, which means the loss of usable space.
Steel
What radiator to choose for a private house?
In this case, steel models with several tangible advantages are perfect:
Affordable cost.
High resistance to external mechanical stress.
Ease of installation instruction. It is possible to use both threaded connections and welding.
Modern appearance.
Very high performance.
But for high-rise buildings with a common heating system, they should not be used for the following reasons:
Weakness before water hammer. This is exactly what we mentioned above. The urban coolant supply is strong enough to break the steel structure. In smaller buildings, it is softer, besides, you can always additionally install a flow converter.
Susceptibility to corrosion. Again, in a private house you can leave a liquid round code in the pipeline, but in the apartments it is customary to produce its discharge for the summer. Raw air will quickly destroy metal pipes.
Bimetallic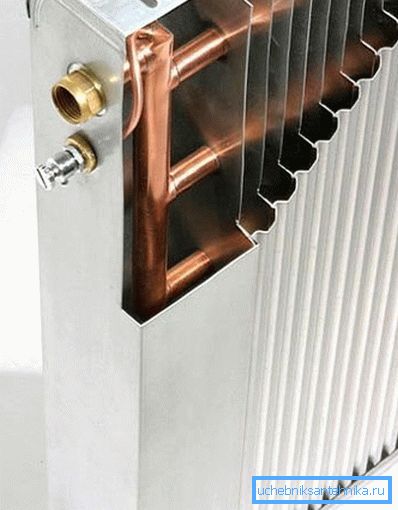 Which heating radiators to choose the most optimal? Those in which it is advantageous to combine aluminum and steel, giving the structure the positive qualities of both materials.
In fact, only a relatively high price can be attributed to the minuses, but you will be guaranteed a large number of advantages:
High heat emission with small dimensions.
Ability to withstand operating pressure up to 50 atm.
Resistance to various chemical compositions of the coolant.
Lack of tendency to corrosion.
Easy installation.
Long term of operation, not less than twenty years.
Technical indicators of radiators
Now we choose a heating radiator according to the characteristics of the room in which we will install them and their technical parameters.
The following room features should be considered:
Type of house: panel or brick.
Dimensions of the room.
The number of windows and external walls that lead to heat loss.
A variety of windows: plastic or wooden.
For example, in a room with a ceiling height of 3 m, one wooden window and one door, the power of the heating system with a calculation of about 100 W per square meter is required. It should also be borne in mind that the pressure maintained by the radiator was not less than that supplied to the house.
Different batteries have the following characteristics:
| | | |
| --- | --- | --- |
| Title | Operating power per section, W | Withstand pressure, atm. |
| Aluminum | 190 | 6-16 |
| Steel | 50-120 | 25 and above * |
| Cast iron | 140-160 | 9-12 |
| Bimetallic | 170-205 | 50 |
* All parameters vary depending on the fin configuration and wall thickness.
Conclusion
We looked at how to choose heating radiators. The performance and durability of the entire system depends on the correctness of your decision (see also the article How to choose heating radiators for a private house: we try not to be wrong with the parameters).
Therefore, be careful and follow the recommendations outlined above. Well-chosen radiators will serve you for a long time and efficiently.